The Joyful Circles scarf has a crochet net base with colourful circles crocheted separately and sewn on afterwards.
Length 130 cm (about 51 inches). This length is for a summer scarf that you tie once. If you want to make a scarf that first wraps around your neck and is then tied, make the scarf longer. A good tip is to make a winter scarf as long as you are tall.
This post contains affiliate links. It means that if you purchase a product I recommend, I may earn a small commission with no added cost to you.
What you need
Bamboo-cotton mix or soft cotton yarn in sport weight (12 wpi). Samples made in Hjertegarn Blend Bamboo, see details of the yarn in Ravelry. This yarn is similar to it: amzn.to/2UYgVo7
Base colour: two 50 gram balls (2 x 150 m/164 yards)
20 circles: 3,5 metres (4 yards) for each circle in two colours. Altogether the amount of one 50 gram ball if you were only using one colour.
Crochet hook 3 mm. I like using ergonomic hooks: amzn.to/2KxzI8r
Large needle
Abbreviations
Using US crochet terms
ch – chain
st – stitch, stitches
sl st – slip stitch
sc – single crochet
dc – double crochet (1 yarn over)
tr – treble crochet (2 yarn overs)
sk – skip
R  – row
x – times (repeats)
prev – previous
More great quality yarn?
KNITCRATE monthly yarn subscription! Both crochet and knitting patterns included.
20% off your first purchase with coupon code TUULA20.
Instructions, the base of the scarf
Chain 79
Row 1
Tr into 12th st from hook, *ch 3, sk 3, tr*, repeat * – * 16 more times [18 holes on the row ]
Row 2
Turn work. Ch 7, tr into next tr of prev R, *ch 3, tr into next tr of prev R*, repeat * – * until the end of R. [18 holes on the row ]
Repeat row 2 until the scarf is 130 cm (51 inches) long. Fasten off.
Instructions for a circle
2 circles are sewn together with the net base in between. Therefore we need twice as many circles as the number of finished circles on the scarf. Make 20 circles in pairs of the same colour.
Colour A and B in each circle.
Start: Colour A. Ch 5, close with sl st to form a ring
Round 1
Colour A
Crochet into ring: Ch 4 (counts as the 1st dc plus ch 1), *dc, ch 1*. Repeat from *-* 6 more times. Take colour B and close round with a sl st. [8 dc on round]
Starting a new round with a different colour.
Round 2
Colour B
Ch 1, 3 sc into each chain space. Take colour A and close round with a sl st. [24 sc on round]
Round 3
Colour A
Ch 3 (counts as the 1st dc plus ch 1), *dc into next sc, ch 1*. Repeat from *-* 22 more times. Take colour B and close round with a sl st. [24 dc on round]
Round 4
Colour B
Ch 1, 2 sc into each chain space. Fasten off. With every second circle leave 40 cm (16 in) of yarn for sewing two circles together. [48 sc on round]
Make 20 circles. Weave in all yarn ends except the long tails left for sewing.
To make up the scarf
Decide how you want to place the circles at each end of the scarf. As seen in the photo above, I don't have mine placed symmetrically.
Place a circle with a long yarn end under the scarf. Place one of the same colour over it on top the scarf. Check that the wrong sides of crochet are left inside the circles. Pin the circles together with the scarf base between them
Sew the circles together from single crochet loops.
Copyright Tuula Kyrölä
You may sell scarves made using this pattern but please mention me as the designer.
Here are two other colour suggestions:
Enjoy your scarf and thank you for choosing this pattern!
Post your scarf in instagram and tag me @tuulamaaria!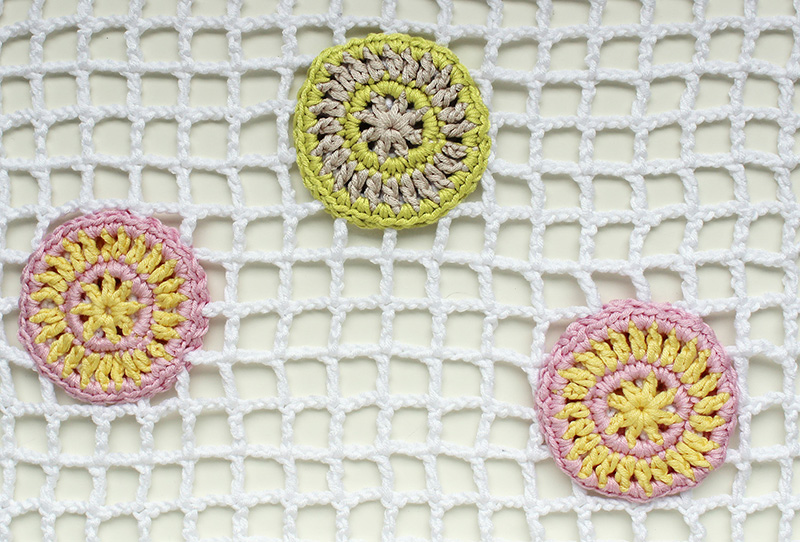 Pin the crochet scarf: