These baby socks are quick to make. They are also versatile. It is easy to customize the foot part of the sock in lots of different ways. I use this pattern often for knitting socks to be taken to a hospital to give to new babies. Check out also another type of baby sock tutorial I made some time ago! It is a variation of the Finnish train sock pattern.
The sock is knitted flat on two needles. You start with garter stitch that will form the cuff and heel. Then you continue to knit the foot and toe part. At the end you sew two short seams or you can also crochet them.
This post contains affiliate links. It means that if you purchase a product I recommend, I may earn a small commission with no added cost to you.
Here is the tutorial video for the socks. Under the video you will find written instructions.
Video tutorial for easy knitted baby socks
Written instructions for baby socks
Gauge and size:
In sports weight (12 wpi/ 5 ply) wool yarn and knitting needles size 3.5 mm, 23 stitches in garter stitch makes 10 cm (4 in). This is for a sock for a baby up to 6 months old. If you use finer or heavier yarn, your sock size changes.
Instructions
Cast on 44 stitches.
Knit back and forth for 18 rows, garter stitch.
Row 19: Cast off 10 stitches in the beginning of the row. Continue to knit till the end of the row. Turn.
Row 20: Cast off 10 stitches in the beginning of the row.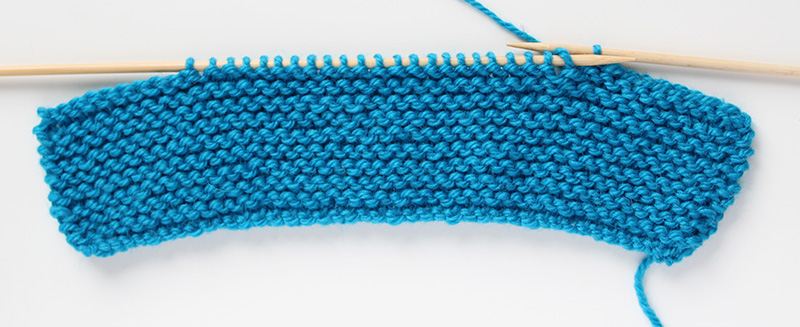 Now continue to knit the stitches left in the middle (24 stitches). Here you can put in colours or designs, the instructions are for plain knitting (stockinette).
Knit on the right side and purl on the wrong side for 13 rows.
After that, decrease the stitches. On a purl row, purl 2 stitches together for the whole row. On a knit row, knit 2 stitches together for the whole row until you have 3 stitches left. Cut yarn, pass the yarn through the last 3 stitches.
Fold the piece into two and sew both sides together. You can also crochet them, see video. Weave in yarn ends.
Pin the knitted baby socks pattern and video:
Pinterest continues to be the main source of readers finding my blog posts. At the moment I have 2.7 million monthly views on Pinterest. I use Tailwind to automate and schdule pins. If you would benefit from Tailwind, you can get it using my personal link. We both benefit from the link if you later upgrade your Tailwind to a paid plan.